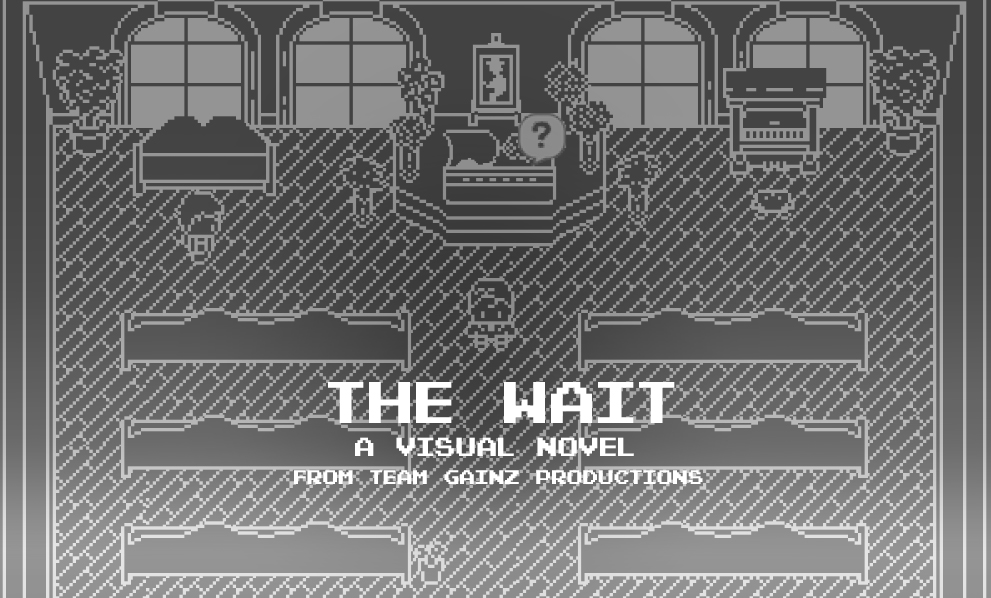 The Wait
Praise for The Wait
"It reminds me of Earthbound."
"Cool art Style!"
"This game made me cry and I loved it."
Teaser

From the team that brought you Teddy Gainz and the Horrors of Insect Island comes The Wait, a visual novel on grief.
Produced for the 12-day Death is only the beginning themed black and white game jam here on itch Black and White Jam #0.(9) - itch.io
Our team is so delighted to be able to work together on another interactive project and share it with you here on itch.io. We are also excited to be tackling more mature subject matter than we handled in Teddy Gainz. We hope you enjoy our game as much as we enjoyed making it! We would love your feedback!
We ran into a little hang up with our production pipeline and were not able to finish the intro scene or the final scene in the timeline for the game jam. Please be aware that our game is without those sections in this iteration. Stay tuned for an update from us soon!
With Gratitude,
Team Gainz Abridged
Content Warning:
This game is suitable for people 12-ish and older with adult guidance for heavy themes related to death and grief. No graphic violence or illustrations. Contains storylines featuring grief, death, dying, the afterlife, trauma. Honestly it's a cute but very sad story. Grab the tissues and que up the cat videos.
Contact
Teddygainzproductionteam@gmail.com
Twitter @GainzTeddy
About
The team who worked diligently on shipping a major update to Teddy Gainz is at it again with this black and white jam. Our small but mighty team of three met through the IGDA Foundations Online Exchange Velocity program in 2021, produced Teddy Gainz shipped an update to that game earlier in 2022 and now are so stoked to present our first visual novel!
Credits
Team Gainz Abridged
Amber Nicole Williams - Art Director
@Ambrowskii
Ricardo Aviles - Developer
@Ricky_games20
Kenna M. Lindsay - Writer Producer
@Kenna_Lindsay
Visual Assets
Super Cute Expression Bubbles
Cynthia J Sulit @mcjsulit
Modern Interiors RPG tileset by
LimeZu @lime_px
https://limezu.itch.io/moderninteriors
Fonts
Press Start
Copyright © 2011, Cody "CodeMan38" Boisclair (cody@zone38.net), with Reserved Font Name "Press Start"
Wingdings Version 1 copyright © Microsoft www.microsoft.com
Special Thanks

Amy Issac
George and Sara Lindsay
JD
Mhmd
Sela Davis
Game Controls
W - up
A - left
S - down
D - right
Arrow keys
Enter - action
E - Wallet/Exit Wallet